No More Scraping Ice and Snow From Your Car Windshield
The worst thing on freezing winter mornings is frozen fingers and hands from scraping the ice and snow from your car windshield.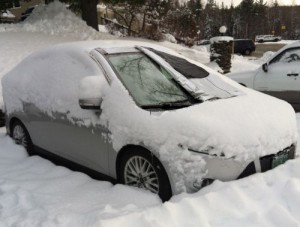 It is a thankless job that has to be done. Removing snow and ice from a car windshield is a must before driving and it wastes precious time, not to mention fuel and wiper fluid while defrosting the windshield.
Introducing the SnowOFF – a new shaped car windshield snow cover with more magnets, winged sides and suction cups to secure inside the windshield for a smooth, close fit.
This specially designed car windshield snow cover checks all these boxes:
•    Two sizes fits most cars and CRVs and SUVs, trucks and RV windshields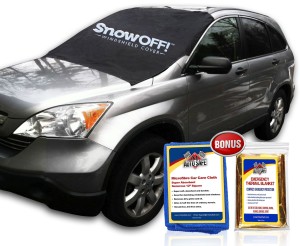 •    Magnets in cushioned pockets along the top, so it clings to metal and won't fall or blow off the vehicle
•    Suction cups on the side wings to secure inside the windshield, for best fit and anti-theft security
•    Extra long skirt to cover the windshield, wipers, washer fluid sprayers and engine well
•    Stops encrusting of ice on rubber wiper blade edges which cause cracks, rips and tears
•    Saves on washer fluid and gas by using less of both to defrost the windshield
•    Comes with a handy carry pouch for easy neat storage
Made from tough weather-resistant fabric, this windshield ice and snow cover comes with a 100% Lifetime Customer Satisfaction Guarantee and available on Amazon.com
BONUS – Included is a Free Microfiber Demisting Cleaning Cloth which will be very useful on cold mornings to demist the inside of the car windows plus an Emergency Survival Blanket which is an essential item in case of breakdown in bad weather, to help users stay warm and alive.
Save time and have those precious extra minutes at home in the warmth before having to venture out. The snow cover is simple to remove – just release the suction cups, peel back the cover and shake off the snow, leaves and debris for a clean windshield.
Then as you drive away you can wave to your neighbors who are left brushing snow and scraping ice from their cars the old fashioned way.